De-stacking and placing lids for plastic containers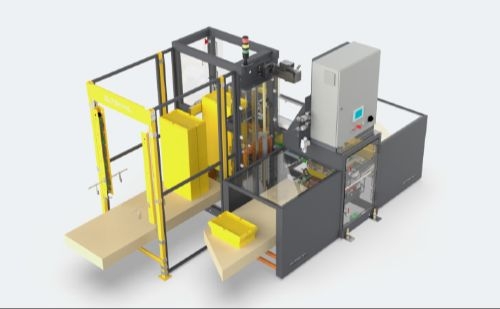 Elten supplied a high-speed destacker and lidder for plastic containers in pharmaceutical industry. Stacks of lids enter the Elten machine.
De-stacking of lids for plastic containers
Grabs take the penultimate lid and lift the rest of the stack. The bottom lid comes loose and is transported out of the destacker. The lid is slid sideways and placed for the loading position.
Placing of lids on plastic containers
A loaded plastic container enters the machine and is placed in the loading position. The machine will push the lid onto the plastic container. The plastic container with lid is checked and, after successful inspection, moved out of the Elten machine.
Specifications:
Capacity of 700 lids per hour.
Maximum weight per loaded plastic container is 15 kg.
Two different types of plastic containers.
Safety measurements are included.